Whether it is your first time shipping a vehicle or you just need some clarification on a few points, we are here to help! We've compiled this FAQ together to help address many Frequently Asked Questions while preparing vehicles for transport. Additional questions or concerns, without hesitation, please get in touch with the team. We are more than happy to assist!
Enclosed Transport Service Area
Primary focus is on enclosed auto transport within the western provinces of Canada (Alberta, British Columbia, Saskatchewan and Manitoba).  The main goal is to provide high quality, efficient service to our regional clients. Our extended service network covers east Canada and USA transportation, please contact us for more information.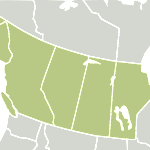 Pickup & Delivery Locations
Door to door deliveries are preferred for most of the client vehicles and event requests. Vehicles will be picked up at the origin location (residence as well as businesses) and delivered to provided destination.  In the event of direct access being restricted during pick up or delivery, our driver will contact you to arrange for service at a nearby location.
Non-Running Vehicles
Transportation of vehicles that are inoperable but still rolling/movable is possible. Most transporters are equipped with electronic winches to load vehicles for transport. Vast majority of modern vehicles have tow hooks for the vehicle, to be installed in the front/rear, for easy winch service.
Please note: Wrecked, severely damaged and non-rolling vehicles cannot not be loaded on our equipment.
Scheduling Services
Clients can now schedule enclosed auto transport online! Immediately pick your preferred available service date and dispatch will confirm the best available time slot for your reservation! Typically most bookings are made 1-2 weeks out depending on clients schedule.
Our drivers will require someone to be at the pick up location as well as the delivery location to sign for inspections and release the vehicle. Likewise, at delivery, this also ensures the vehicle and keys are left in a safe and secure location when delivered.
Contact us if someone is unable to be present at any of the points of service.
Rush / Same Day Services
Rush as well as same day pick up service is available. Mainly used for dealerships and clients that require short-notice transportation for warranty, events and corporate relocations. Interested? Without hesitation, please get in touch with the team.
Cleanliness and Car Covers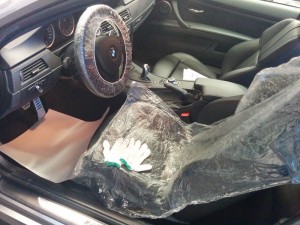 Our drivers take pride in offering a clean, safe and scratch free service for your vehicle. A driver will thoroughly inspect your vehicle at the time of pick up. This will include photos as well as a condition report (BOL) signed by the driver as ell as the pick up contact, before the vehicle is loaded.  Clean protective gear, such as floor mats, seat covers and steering wheel covers (if required) will be installed on every vehicle before loading. This is done to ensure cleanliness and minimal physical contact between the driver as well as vehicles.
Vehicles with clean paint and windows are able to have covers installed during transport. Customers can leave their vehicles cover in the cargo area and request it to be used during transport. A cover can also be provided at an additional cost if the customer does not have one available.
Vehicles that contain dust, dirt, contaminants or moisture cannot not be covered during transport.
Personal and Household Items
For vehicles not crossing any international borders, small personal items or vehicle related items may be left inside the cargo area. For vehicles crossing international borders, all items inside vehicle must be declared on customs paperwork. Any goods not declared risk seizure by customs officials at the time of crossing.
Please ensure all contents are secured properly for transport. Ensure the drivers field of vision is clear so the vehicle can be driven safely without obstruction.
Weapons, alcohol, illegal and/or dangerous goods are not permitted.
Insurance
As required by all legal motor carriers operating Canada, your cargo is fully insured during transport.  We carry numerous policies to ensure that in the event of a major accident or damage to your vehicle, you are covered. Our policies include but are not limited to $3,000,000 High Value Commercial Cargo Coverage as well as $2,000,000 Commercial General Liability Coverage at all times.
In the event that your vehicles value is exceeding $3 million for insured replacement costs, please contact us to discuss additional coverage required.